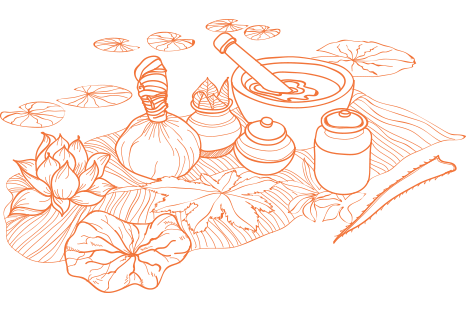 Ayurvedic Rejuvenation & De-Stress Package
Stress tends to wear us down physically and mentally. It impacts our nervous system, digestive system, reproductive system, immune system, emotional state and overall well-being. Ayurvedic massages using medicated herbs and oils, Yoga exercises, deep breathing and meditation can immensely benefit anyone who lives a high-stress personal or professional life.
Rejuvenation & De-Stress program supports the being with longevity, memory and mental boost, good health, youth, great complexion, voice and strength of sensory and motor organs. The primary aim of this rejuvenation treatment is to maintain youth and extend the being's longevity. It aims to keep enzymes in the cell tissues in their optimum functioning condition, soothe and soften nerves and bones and stills mind. It prevents the process of ageing and frees the being from diseases even at an advanced age. Those wanting to live a long disease-free life and keep fit should choose this rejuvenation therapy.
This program is ideal for guests who stay for a short time and wish to spend holidays with health-promoting activities like traditional Ayurveda, yoga, meditation, and specific Ayurvedic diet.